Sherry Robinson– Artist Statement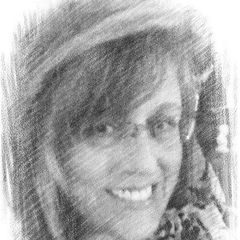 I am from Atlanta Georgia and have lived here all of my life. Since a child I have enjoyed drawing and painting. I took art instruction in high school and for a brief period was an art major in college while attending Georgia State University. However, instead of art, I chose a career in Computer Technology in which I enjoyed success for more than 30 years. Now that I am retired from the corporate world, I have begun to enjoy my art work once again. I currently have a studio and work the front office at Little Tree Art Studios in Avondale Estates GA. This is near the area where I grew up and so it's like I've returned to my roots so to speak. Everywhere around me I am surrounded by distant memories of my past. Before Little Tree I worked at Kudzu Art Zone Gallery and Studios as Director, becoming familiar with the behind the scenes workings of a gallery. Since retiring I've managed to stay pretty busy! At this point in my art work I enjoy experimenting with all realms of techniques, mediums, and subject matters. For me the discovery of something new is as exciting as a beautiful finished work of art. Many of my art pieces are from photographs I have taken; so, my art work is a memory of an adventure or a representation of a story or person I care about. I have created a company called Art a la Sherry in which to share my artwork with others.
Sherry Robinson– Resume
Education
Southwest Dekalb High School – 1976
Georgia State University: Completed 2 years of art studies – 1979  
Georgia State University: Associates Degree in General Studies – 1985
Georgia State University:  Bachelor Degree in Computer Information System – 1989
Georgia State University:  Master of Business Administration, concentration in CIS – 2007
Art Training
SCAD Community Art Education
Thomas Key drawing classes – 2008
Binders Art Education
Charles Wall oil painting classes 2011 – 2012
Callenwalde Fine Arts Center
Nate Emerson oil painting class – 2012
Dawn Kenney Martin
Study of plein air and palette knife painting – 2014
Emory Continuing Education
Guy Robinson – abstract painting with oils
Spruill Center Education for the Arts, 2008 – 2015;
Thomas Key – drawing, portrait and figure drawing
Jason Espey – portrait painting
Summer Lowe – acrylic and oil painting
Karen Chesney – master oil instruction
Estelle Hart – oil painting
Cheryl Baird – abstract painting
Nancy Honea – color theory
Maureen Engle – brush and palette knife painting with oils
Ann Wynn – photography
Penny Treese – encaustic painting
Kudzu Art Zone
Chris Sherry – 2016
Exhibits
Limelight Gallery, Atlanta, GA 2015
Spruill Education Center 2010 – 2013
Spruill Center for the Arts
Mr. Peacock painting won People's Choice award at the Spruill Center for the Arts 2013 Juried Exhibit!
Johns Creek Arts on the Creek Exhibit, 2014 and 2015
Kudzu Art Center in Norcross
15 Oranges won People's Choice award, Night Lights Exhibit at Kudzu Art Zone Gallery 2015
Gallery 450 in Mobile, AL, I show my work here every year
Atlanta Artist Center, 2015
Artists Expressions show at the Norcross Rectory 2015
The Art Bar at Sonesta Hotel, Duluth GA, 2015 to current
Job Related Experience
Owner of Art a la Sherry, a fine art company founded 2010
Director, Kudzu Art Zone Gallery and Studios, February 2015 to 2016
Front Office and studio artist at Little Tree Art Studios, 2016 to current